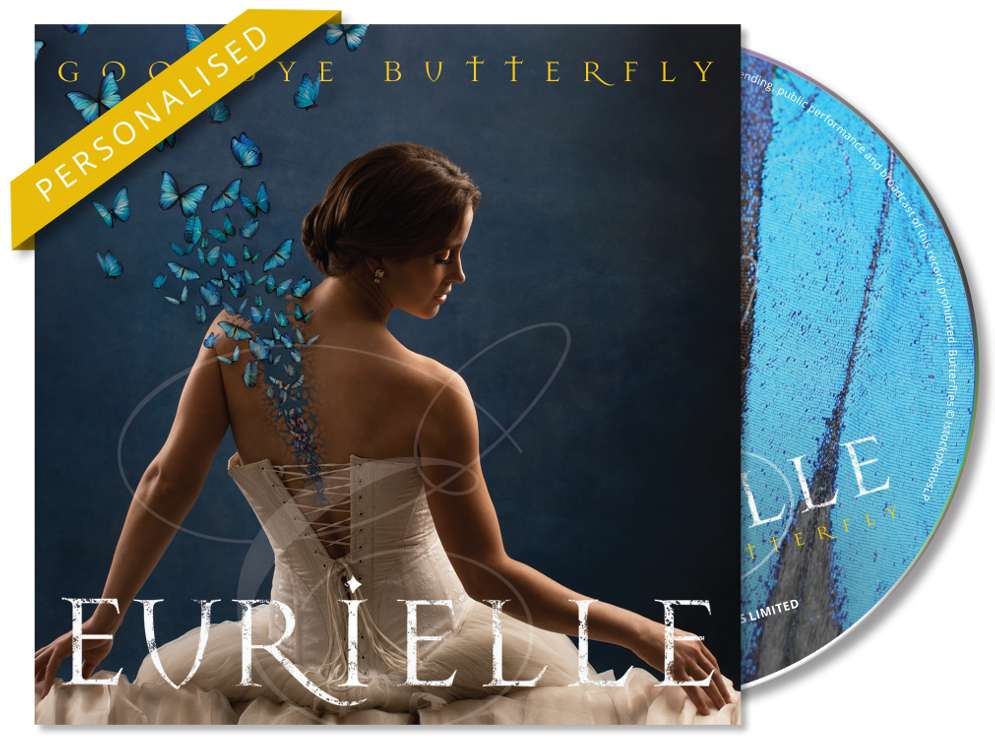 GOODBYE BUTTERFLY (ALBUM CD - PERSONALISED)
PLEASE READ AND FOLLOW THE INSTRUCTIONS IN THIS PRODUCT DESCRIPTION VERY CAREFULLY. FAILURE TO DO SO MAY RESULT IN EURIELLE BEING UNABLE TO FULFIL YOUR ORDER AND HAVING TO CANCEL IT AND YOU NEEDING TO RE-ORDER THE PRODUCT:
This is a personalised CD copy of Eurielle's new album 'Goodbye Butterfly'. The product features 11 tracks and is packaged in jewel case with high quality colour booklet containing all song lyrics and credits.
One and a half years in the making, 'Goodbye Butterfly' is Eurielle's second album following the success of her independently released debut album 'Arcadia'. 'Goodbye Butterfly' was co-written and co-produced by Eurielle and Charlie Mole (who composed soundtracks for high profile films & TV shows such as Mr Selfridge, The Importance of Being Earnest, Dorian Gray, and The Sopranos) and recorded in Lyndhurst Hall at AIR Studios in London with The Chamber Orchestra Of London and RSVP Voices, conducted by Alastair King (conductor for the soundtracks of the Harry Potter movies, Pirates of the Caribbean & Downton Abbey), and was mixed and mastered by engineer Paul Golding (Downton Abbey, The Lord of the Rings trilogy). It includes previously released singles 'Petit Papillon' and 'As The Skies Cascade.' Described by Alexis Ffrench at Scala Radio as "Sumptuous, magical and ethereal. Straight from a cinematic score."
INSTRUCTIONS FOR THE PERSONALISATION:
Once you have checked out and completed your purchase you will receive an email from Music Glue confirming your order. Please forward this email to Eurielle at this address: management@eurielle.com and include in the email a clear description of what you would like Eurielle to write on your CD to personalise it. Please bear in mind that there is limited space to write on the CD packaging so try to keep your personalisation requests as short as possible. You must also include your postal address in the email so that Eurielle knows where to post it to. Eurielle will only be able to fulfil your order if you follow these instructions.
N.B. This is the PERSONALISED version.
Please click here to purchase the UNSIGNED version if that's what you're looking for.
Or here to purchase a SIGNED version.